Lenovo did not go unnoticed during CES 2022, due to its multiple announcements, including the new ThinkPad X1 laptops.
Where we find the ThinkPad X1 Carbon 10 the Gen, X1 Yoga 7 the Gen and X1 Nano 2 nd Gen . Which further raise the bar in thoughtful engineering and timeless ThinkPad design. Optimized for the hybrid worker and professional looking for more performance. Plus, better camera and audio functionality for immersive collaboration, and a more secure laptop that keeps up with the daily demands of hybrid work.
A highly innovatively designed communications bar with a high-quality built-in camera and 360 ° far-field four-microphone array. This is complemented with OLED screen options and solutions powered by Dolby; including Dolby Voice with the latest in noise cancellation technology for unprecedented audiovisual and collaborative experiences. 
Powered by the latest in Intel vPro with 12th Gen Intel Core processors and Windows 11; The new Lenovo ThinkPad X1s unveiled at CES 2022 offers a very high level of ThinkShield security, complemented by new Computer Vision (CV) technology. CV introduces vast improvements in user presence detection with smarter privacy, simpler and more convenient login, and optimized power management.
ThinkPad X1 Nano 2nd Gen
Lenovo ThinCentre M90s Pro
But those are not the only innovations, as we are also introducing the brand new ThinkCentre M90a Pro Gen 3 All-in-One (AIO) with advanced individual and group collaborative functions, and a redesigned Tiny-in-One (TIO), called TIO. Flex, which reinvents the enterprise-class modular AIO desktop PC that we launched back in 2014. Lenovo, in addition to introducing the ThinkPad X1 at CES 2022, also announced; the new ThinkVision P series 27 ″ monitors. Which expand the user's work area and offer value-added functions for efficiency and productivity. You can optionally add a Voice-over-IP (VOIP) Modular StackThinkVision with webcam and speaker for a collaborative video solution without limitation.
Lenovo has "probably" managed to improve the best business laptops
The latest Lenovo laptops are a source of pride for them, and as they enter their 30th year of relentless pursuit of perfection; they are happy that the ThinkPad has become an industry icon.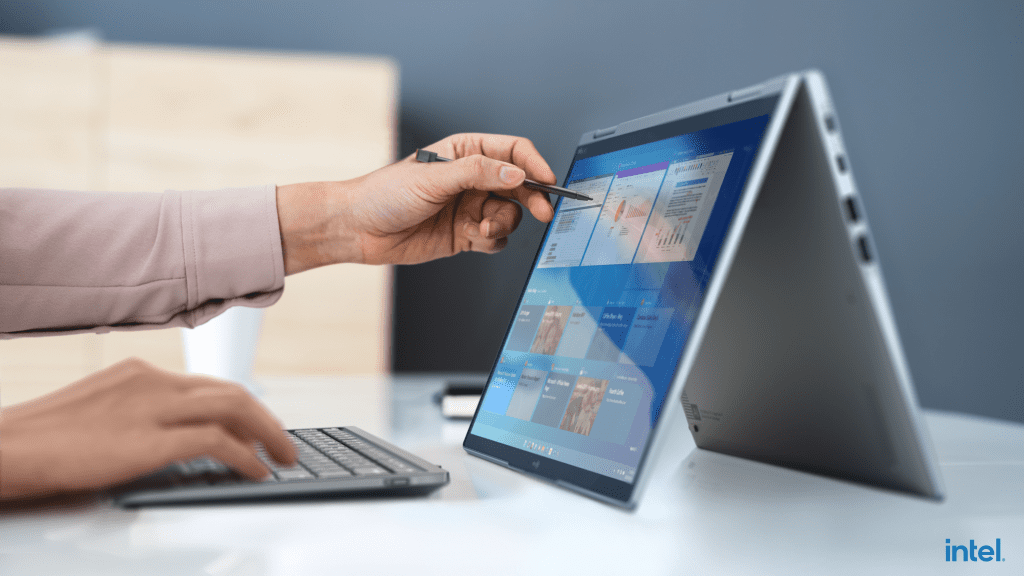 ThinkPad X1 Yoga 7th Gen
ThinkPad X1 Carbon
The ThinkPad X1 Carbon unveiled at CES 2022 has become a 10th generation milestone and maintains everything the modern professional needs; ThinkPad X1 Yoga 7 th Gen presented at CES 2022 by Lenovo, with its premium design machined aluminium, adds style and power. Now all models support Intel Core P-series 12 ° generation, offering a true leap in performance, including our ThinkPad and the lightest full range of less than 1 kg: the Lenovo ThinkPad X1 Nano 2 nd Gen also presented at CES 2022.
A key design feature is Lenovo's new Communications Bar. Which integrates enhanced FHD webcam options, Privacy Shutter, and 360 ° far-field four-microphone array. The design of the bar allows integrating a camera with a sensor larger than what is usually found in laptops. The 1.4µm sensor improves image quality, especially in low light environments.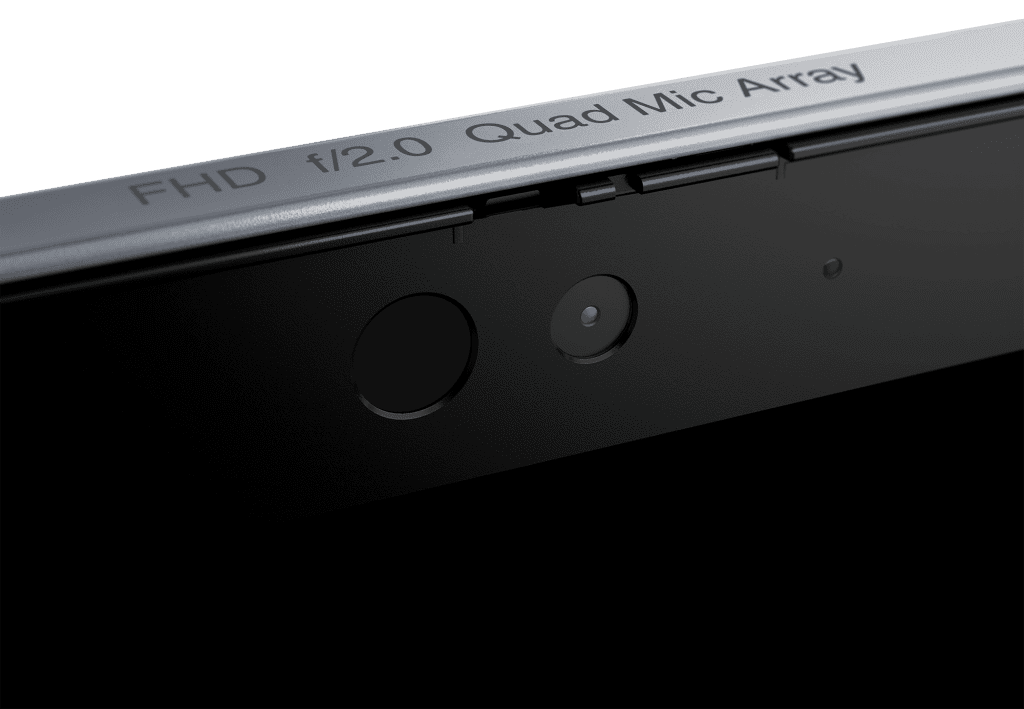 ThinkPad X1's new FHD camera and quad-microphone array
New Computer Vision Technology in Lenovo ThinkPads
The new Computer Vision technology that comes with certain models of the new ThinkPad X1 employs a neural processing unit (NPU) that generates metadata from the onboard camera based on known recognition and AI algorithm modelling 3.
The technology offers a more intelligent human presence detection function that recognizes humans and their intention to use the PC, unlike a passing office colleague, for example, or a cat at home, and therefore, it only activates and unlocks for them, which adds one more level of practicality. It works even when the user is wearing a face shield 4 . To save energy, Computer Vision can also turn off or dim the screen when the user looks in another direction, which helps improve energy efficiency and adds an extra degree of privacy when working in public places.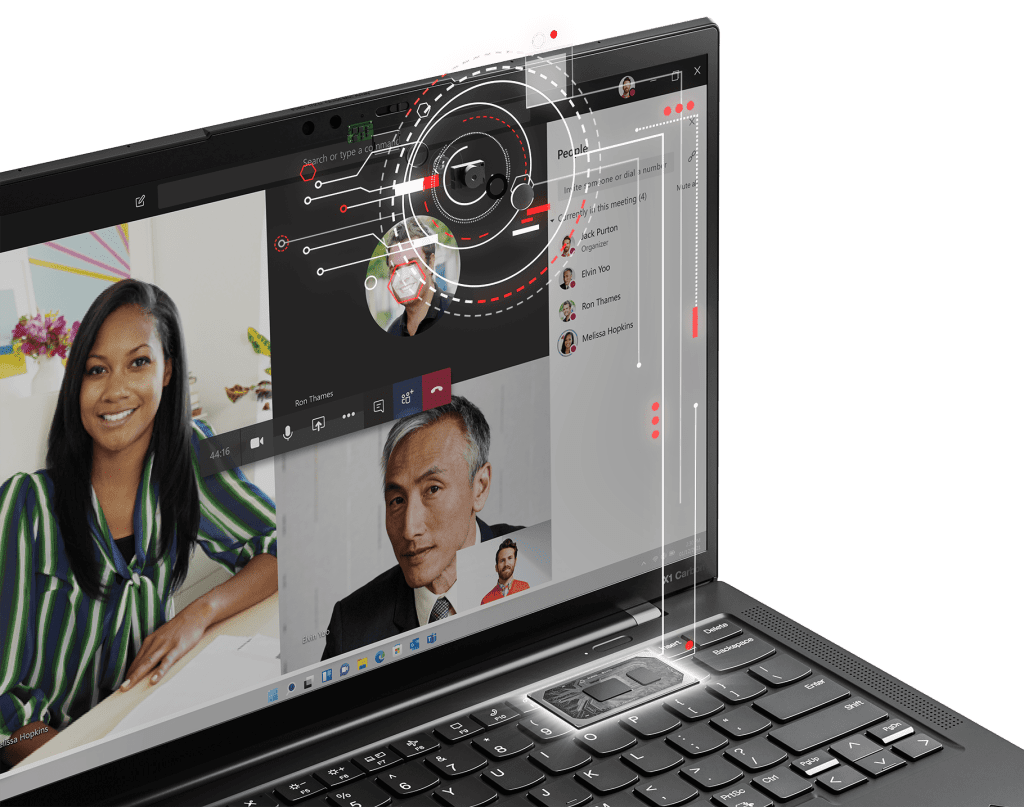 Computer Vision y NPU de ThinkPad X1
There are other enhancements designed more for the critical needs of the hybrid workforce in terms of performance, user experience, connectivity, and security.
Highlights include:
Performance:

The latest Intel 12 

th

Gen Intel Core vPro options include processors U15 and P28.

Windows 11 Pro provides a next-generation operating system experience.

Faster LPDDR5 memory and PCIe Gen 4 storage options for lower latency.

New keyboard design with air intake from X1 Carbon and X1 Yoga for better thermal performance 

5

User experience:

Vivid colour displays, with new 2.8k OLED options, for X1 Carbon, and 4K OLED options, for X1 Yoga, plus Eyesafe certified blue light reduction panels.
The Dolby series creates a true multimedia source with the Dolby Atmos® speaker system, Dolby Vision® on compatible displays, and Dolby Voice with AI noise cancellation, now also available on the X1 Nano for loud and clear audio in conferences.

Connectivity and security:

Wi-Fi 6E 

6

 is now available to optimize bandwidth on high-traffic networks and in non-Wi-Fi environments. The user can opt for a Cat16 4G LTE connection or a 5G sub-6 WWAN connection.
Computer Vision improves user presence detection, simplifies login, and optimizes privacy.

The ThinkPad X1s support Tile's full suite of search functions, so users can locate their PCs in up to 14 days, even when they are turned off.
Jerry Paradise, Vice President, Global Commercial Product Portfolio, Lenovo PC and Smart Devices commented:
"Our X1 portfolio is the pinnacle of our ThinkPad design and engineering know-how . For the past 30 years we have set out to delight our most loyal fans by constantly innovating, which has required an extremely high level of dedication and focus, and great partners, such as Intel, "said Jerry Paradise, Vice President, Global Commercial Product Portfolio, Lenovo PC and Smart Devices. "We are very proud of our relentless commitment to making the most advanced and highest performing ultraportable laptops available to our customers."

"We are very proud to have been part of the birth of ThinkPad, and to have helped revolutionize the personal computing ecosystem. Created in conjunction with Intel, the Lenovo ThinkPad X1 Nano, X1 Carbon and X1 Yoga designs will meet the requirements of any Intel Evo ™ laptop with Intel hardware specifications and key experience goals for responsiveness, instant wake-up, battery life, fast charging and smart collaboration, "said Josh Newman, vice president and general manager of Mobile Innovation at Intel.  
The future of desktop solutions is flexible and adaptable
At first glance, the new ThinkCentre M90a Pro Gen 3 is yet another upgrade to our premium business AIO desktop solution. However, the new M90a introduces new functions and features and elevates the product to the category of collaborative and intelligent productive PC. Powered by 12th generation Intel Core processors up to i9 on Intel's Q670 platform with vPro technology, it features a 23.8 ″ QHD display, up to 64GB DDR5 and multiple and varied storage options and I / O ports. It also includes HMDI 2.0 and DisplayPort outputs, which are not as common for an AIO, allowing you to connect a second display and a full-featured dock, including its 90 ° pivoting capability.
However, what makes it stand out is the integration of conferencing and security technologies: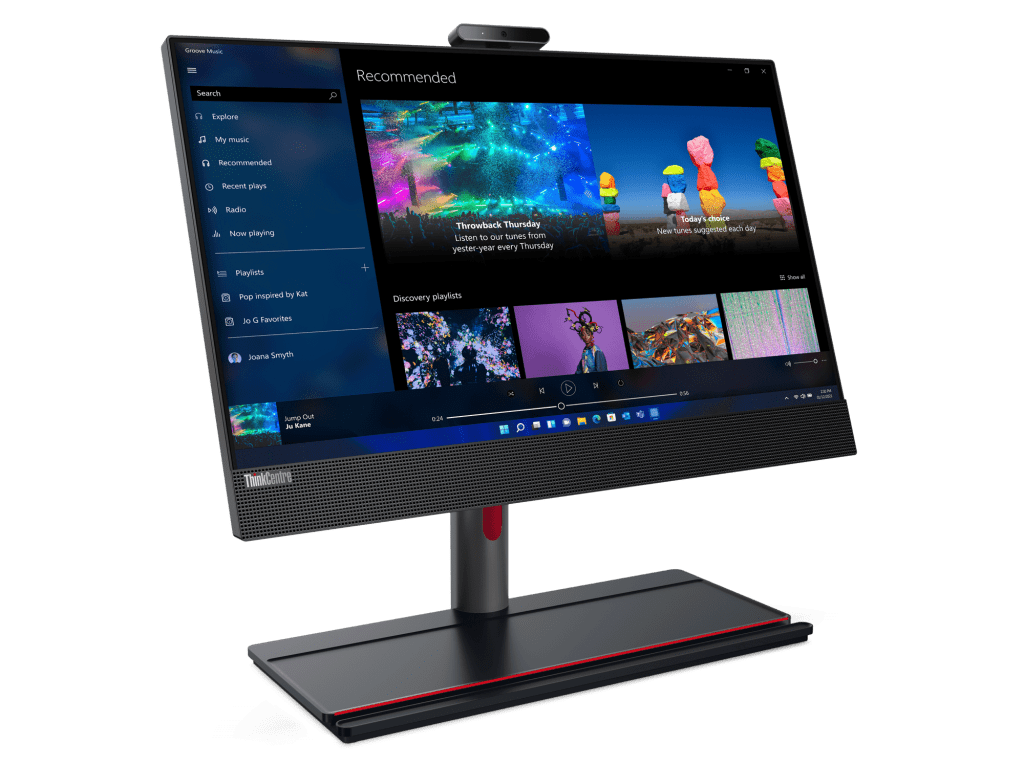 ThinkCentre M90a Pro Gen 3
In its standard version, the M90a Pro Gen 3 features a tilting camera with dual-array microphones and two 3-watt speakers for individual video conferencing.

Optional conference call base to bring collaborative work to life. Quad array microphones with 360 ° far-field pickup based on AI noise suppression technology and four Harman-developed speakers transform the M90a into a PC for group conferences. The Microsoft Teams-optimized device with a built-in USB Type-C cable can also connect to a compatible laptop, helping turn any space into a true meeting room.

The M90a Pro Gen 3 also optionally comes with the human presence detection feature enabled by Intel® Context Sensing Technology so that the system wakes up when the user approaches and locks automatically when the user walks away.

Neural noise cancellation via Intel® GNA to reduce background noise for efficient collaborative work.

Built on the 12th Gen Intel vPro platform, the enterprise-class M90a Pro Gen 3, with the latest performance and features and functions users are looking for, plus security, manageability and stability in the that the IT area can trust.
Lenovo as the industry leader in desktop solutions
In many respects, Lenovo gave new impetus to the desktop solutions industry in 2014 with the introduction of the first generation of the modular Tiny-in-One PC. 2 . With the launch of the new TIO Flex, he has focused on a truly comprehensive customer value proposition that minimizes complexity for office and remote workers. With its high level of flexibility and compatibility with the last four generations of Tiny desktop solutions. In addition to new monitor options up to 27 ″, Flex offers simple upgrade paths, with the ability to upgrade PC and display separately. Modularity is divided into three: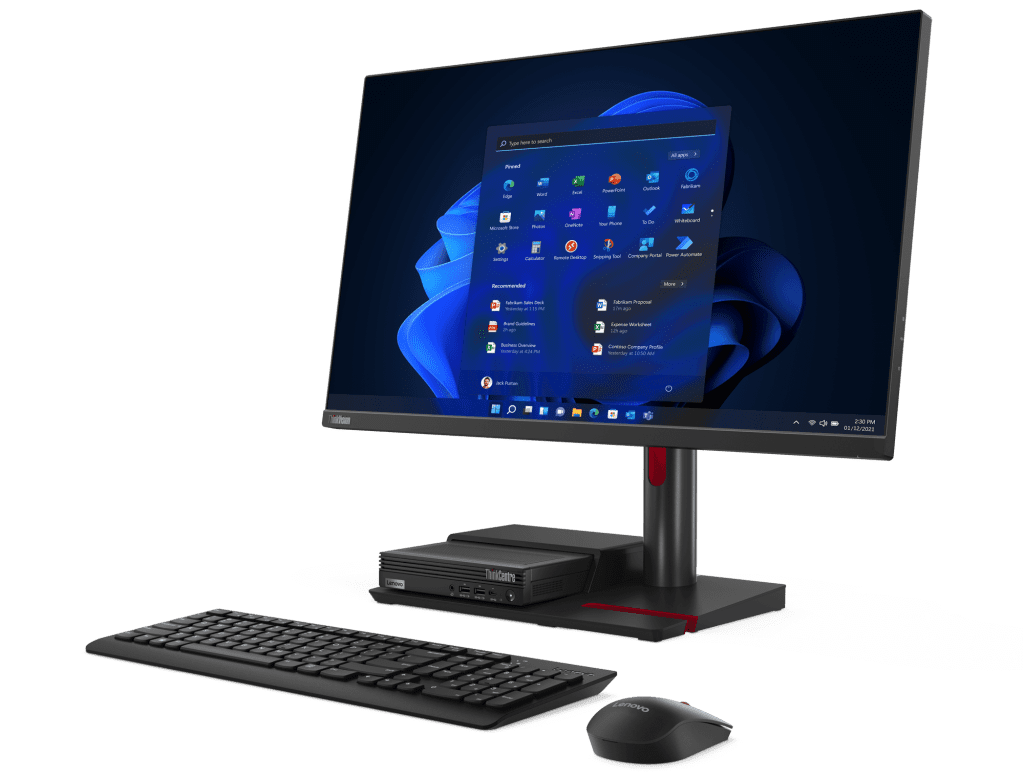 ThinkCentre TIO Flex (with Tiny desktop solution and ThinkVision monitor not included)
TIO Flex Stand, a single solution for all compatible ThinkVision Tiny Desktops and Displays.

PC ThinkCentre Tiny de escritorio opcional. TIO Flex Stand admite Tiny Gen 4 a Gen 8

Optional ThinkVision T series monitors with 22 ″, 24 ″ and 27 ″ displays 

9

 with or without VoIP functionality.

An optional VESA standard 100 × 100 brackets will also be available for other monitors.
TIO Flex is easy to deploy and serviceable, and now offers a flexible and intuitive upgrade path that protects long-term investment.
ThinkVision solutions for hybrid work
The traditional office environment seems to be giving way to the hybrid work environment. Users are looking for consistent technologies that give them a good level of flexibility between the office and home. ThinkVision seeks to respond to this demand from its customers with the new generation of P-series professional monitors, designed with modular flexibility, digital well-being and sustainability in mind.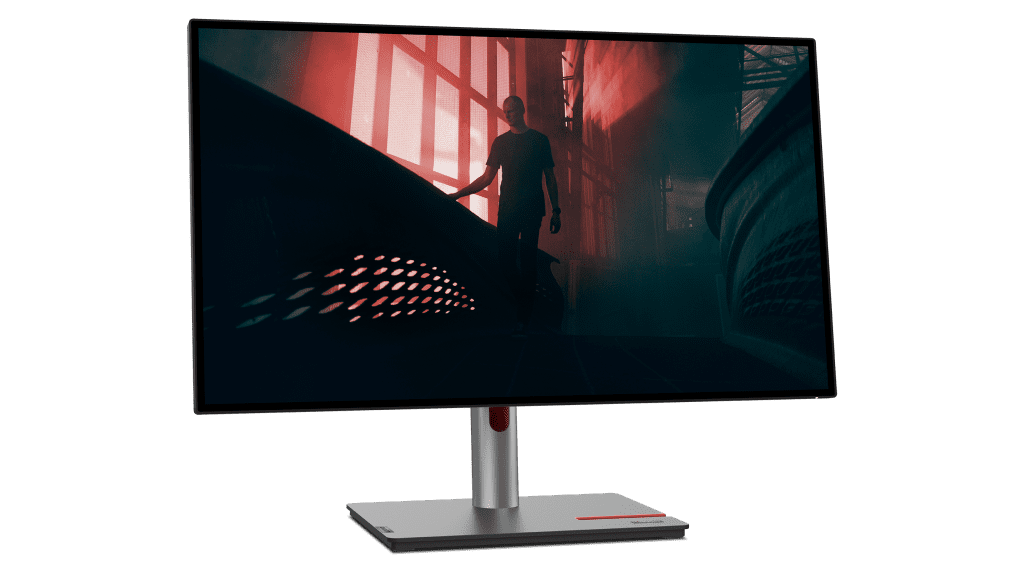 ThinkVision P27h-30 and P27q-30 are virtually borderless bezel designs on all four sides, 27 ″ QHD displays with rich colours and calibrated colour accuracy.
The P27h-30 and P27q-30 models differ in functionality. The first is designed for a flexible work environment where you need to quickly connect a laptop with a one-cable solution. With up to 100W charging power, ethernet, USB hub and multi-screen functionality, the P27h-30 plug-and-work (or play ) is ideal for a home office or shared desktop environment and incorporates KVM switch functionality 10 to help advanced users who are intended to easily switch between different inputs on the PC.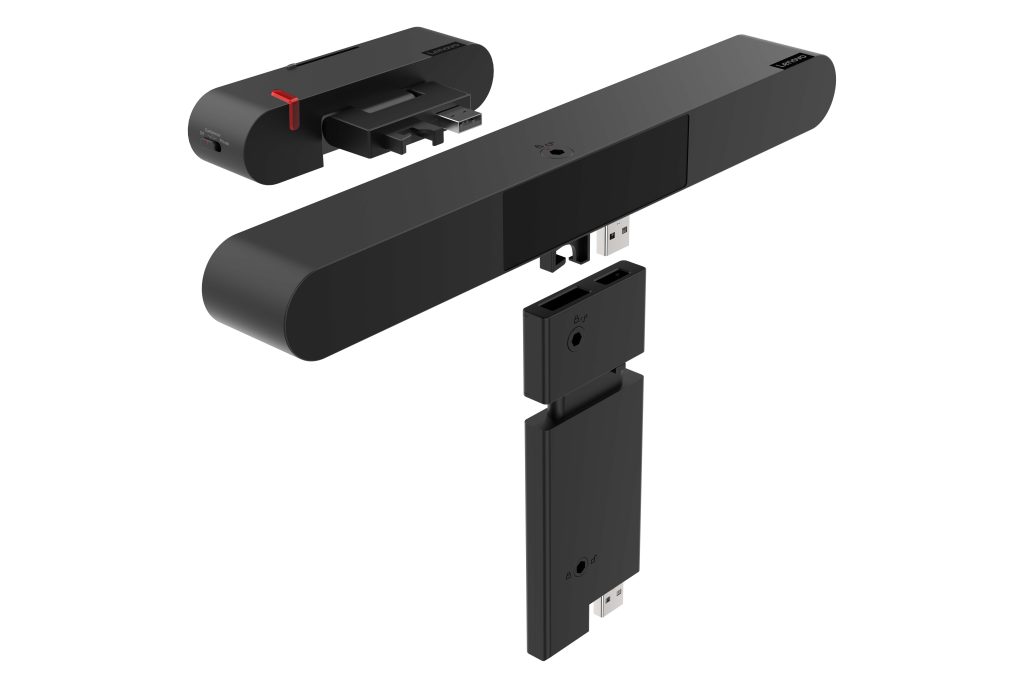 ThinkVision VOIP Modular Stock
Both P-30 series monitors share the same video collaboration option. The ThinkVision VoIP Modular Stack offers a unique wireless conferencing solution with the new MC60 monitor webcam, MS30 monitor soundbar, and a smart USB cradle that connects directly to a USB port located on the top section of the P devices. -30 series.
A battery meets three requirements, depending on the needs of the user:
Modular Soundbar (MS30) with USB audio conferencing cradle for clear sound with 2-watt dual speaker and security lock for physical protection.

Modular Webcam (MC60) with the USB cradle for clear FHD video image with autofocus function and dual-array microphones with beamforming technology for noise cancellation. The MC60 can select a different field of view with a wide-angle of 65 °, 78 ° or 90 °, and includes a privacy shutter.

The MC60 webcam and MS30 soundbar, combined with the USB cradle, provide a wireless audio/video conferencing solution for home and office environments.
Availability and prices:
The ThinkPad X1 Carbon Gen 10 will be available from March 2022 at an estimated starting price of US $ 1,639.

The ThinkPad X1 Yoga Gen 7 will be available from March 2022 at an estimated starting price of $ 1,749.

The ThinkPad X1 Nano Gen 2 will be available from April 2022 at an estimated starting price of US $ 1,659.

The ThinkVision P27q-30 and P27h-30 will be available from July 2022, at an estimated starting price of US $ 499 and US $ 599 respectively.

The ThinkVision VOIP Modular Stack solution will be available from June 2022, at an estimated starting price for the Soundbar of US $ 39 and the Webcam of US $ 129.

The ThinkCentre M90a Gen 3 Pro will be available from May 2022, at an estimated starting price of US $ 1,299.

The TIO Flex will be available from June 2022, at an estimated starting price of just $ 49.99
As we can see, Lenovo has prepared incredible surprises revealed at CES 2022 including the new ThinkPad X1.
READ ALSO: The best gaming laptops of 2021 – Geekzilla tech